Although the slate of games this week wasn't exactly the most memorable, we only have three weekends remaining of college football, so we intend on enjoying what we have. Also, the night ended with Coach Orgeron swinging a sword, so how bad could it be, really?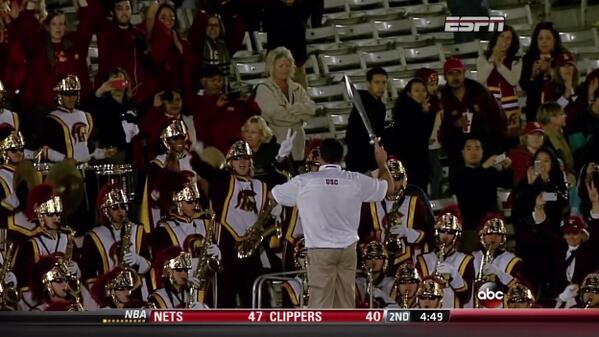 Winners – USC, Auburn, Kansas, Duke
How hated was Lane Kiffin? He managed to turn USC, a private school that has earned the nickname the University of Spoiled Children, into a heart-warming, feel-good story. Such is the negativity and vitriol Kiffin brought USC's way. After starting the season 3-2 (and 0-2 in the Pac-12), USC fired their much-loathed head coach and named Ed Orgeron, formerly the head coach at Ole Miss, to their interim head coaching spot. What has Coach O done since then? Well, only gone 5-1 (and 5-0 in the Pac-12), including yesterday's upset over #4 Stanford, 20 -17. It was a remarkable win over a program that has been mostly listless since Pete Carroll left. Congrats to Ed Orgeron on the USC Trojans. Now, if you'll excuse me, after saying that, I need to take a shower.
How lucky is Auburn? Let's just say we wouldn't want to cross Kristi Malzhan the wrong way lest she conjured up some sorcery and strike us dead. After having a 27-10 lead going into the half, the Tigers almost let it slip away, as Aaron Murray gave the Bulldogs a 38-37 lead with 1:48 remaining. It looked like Auburn would suffer yet another soul-crushing loss. Then, this happened.
We could use our command of the English language to describe in elegant terms the events that transpired, but all would fail in capturing the majesty that the above GIF provides. Suffice it to say: Auburn wins, 43 – 38.
We feel like a broken record, but once again, congrats to David Cutcliffe and the Duke Blue Devils, who easily took care of business and defeated a ranked Miami team, 48 – 30. We are halfway through November, and Duke controls its own destiny in the ACC Coastal. If they win out, they will face #2 Florida State in the ACC Championship Game. We'd say it'd be a bloodbath, but with the ACC, who knows?
And Kansas finally got its first conference win since the Reagan Administration, beating West Virginia, 31 – 19.
Losers – Stanford, Virginia Tech, Northwestern
Stanford has to be included here; as the only team in the Top 20 of the BCS to lose this week, they are Week 12's biggest losers. Their 17 – 20 loss to Southern Cal all but eliminates them from the National Title conversation. Not only that, but it once again gives Oregon the lead in the Pac-12 North. So not only did David Shaw's team play themselves out of a potential national championship game berth, they also may have just lost the Rose Bowl.
Virginia Tech, still reeling to their losses to Duke and Boston College (yes, you read that correctly), suffered another setback at the hands of the…Terrapins? Are we reading this correctly? We are? Okay then. Apparently Maryland beat Virginia Tech in overtime, 27 – 24. This happening the week after Virginia Tech beat #11 Miami 42 – 24. A Miami team which lost to Duke this week. Oh, and Florida lost to Miami in Week 2, which makes them worse than all of these teams. Go ACC. (Maryland is also bowl eligible now.)
And Northwestern. Ohhhhhhhh Northwestern.
There are heartbreaking losses, and then there are what happened to Northwestern. After leading 9-3 heading into the 4th quarter. As time expired in the 4th quarter, Michigan was out of timeouts and had to rush the field goal unit on to the field. Whereupon this happened:
There is no way anyone on the Michigan line was set for one complete second, but this is college football son. Rules don't matter. If you want the Big 10 with any regularity, you knew Northwestern was going to lose this game. Yes, the field goal only forced overtime, but you knew Northwestern would lose. And lose they did, 27 – 19 in triple overtime.
Top 25 Upsets
USC over #4 Stanford, 20 – 17
Duke over #23 Miami, 48 – 30
A Look Ahead
Many teams are taking the penultimate game of the regular season (for those teams in conferences that have conference championship games) to rest up and play FCS opponents before their Week 14 rivalry game. As such, the pickings are once again slimmer than usual. The game of the week (and the one College GameDay will be at) is #5 Baylor at #12 Oklahoma State. In the SEC, #11 Texas A&M will travel to #21 LSU, and #19 Arizona State will play at #13 UCLA in a de facto PAc-12 South division championship game.
BCS Standings